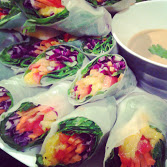 Thai Rainbow Rolls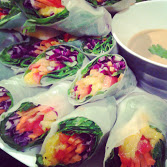 This is an appetizer dish that I give to my clients on a regular basis, and they always ask for the recipe so here it is. I want you all to enjoy making them for your family and benefit from the rainbow of colours, the vegetables chosen are full of anti-oxidants and plant enzymes, so it is almost like a multi vitamin! The Thai dip is rich with a creamy consistancy as well as being sweet, spicy and a tang from the citrus. Please use organic ingredients whenever possible.
serves 6-8 as an appetizer
1/4 red cabbage finely sliced
1 ripe mango sliced into strips
2 carrots finely sliced into strips
Spinach/kale or swiss chard whichever looks the best at the market
1 red pepper finely sliced into strips
Round rice rolls
Thai Dip
1 large clove of garlic crushed
1 tbsp of chopped fresh ginger
1 tbsp tamari ( naturally fermented soy sauce)
Juice of 1 lime
1-2 Thai chilies
1/3 cup of cashew butter
1 tbsp of maple syrup
1/3 cup water
2 tbsp of melted coconut oil
I always make the dip ahead of time at least 2 hours before serving it as it thickens in the fridge and is delicious that way. Blend all except the coconut oil in your blender until smooth and then add the oil last and blend for a few seconds, taste and adjust as required. It should be quite runny like a home-made salad dressing. Place in the fridge.
Prepare all your vegetables and then boil the kettle. Get yourself a round fairly shallow serving dish a bit bigger than the rolls and fill with hot water. Lay out a clean dry tea towel in front of you. Place the rolls in one by one, when the water is straight from the kettle the rolls will take 5 seconds to soften, the cooler the water the longer to soften. Do not leave them in too long as they will become fragile. Lay out 2 at a time to start with and fill with your vegetables and roll up like a burrito not too full mind you.
There you have it I hope you enjoy these wraps as much as we do here!